This post may contain affiliate links. See our affiliate disclaimer here.
Fifth wheels or 5th wheel campers are a top choice for many RV buyers because of their homey layouts and easy maneuverability. However, many of the most popular 5th wheels are over 40 feet long!
The size of these monster 5th wheels severely limits where their owners can camp. Below is a comprehensive list of all the small 5th wheel trailers available in 2024. All of these new 5th wheel campers have an exterior length of 27 feet or less.
Best Small 5th Wheel Trailers Under 24 Feet
Scamp 19′
Length: 19 feet
The smallest 5th wheel trailer on the market today is the Scamp 19′. This teeny tiny 5th wheel allows campers to access pretty much any campsite, while still traveling with all the conveniences of home.
The Scamp 19′ does not lacking sleeping space, and can easily accommodate 4 people. The nose of the fifth wheel contains a queen-sized loft bed and the dining table also coverts into a bed.
The Scamp also has an enclosed wet bath with a toilet and shower. The kitchen includes a sink, small refrigerator and a two-burner stovetop. Campers who want more options for cooking can upgrade their Scamp kitchen with a microwave or conventional oven.
Click here to learn more about the benefits of fiberglass campers made by Scamp.
Allen Camper 199RB
Length: 20 feet, 10 inches
Allen Camper offers six small 5th wheel trailers under 27 feet. Of these six floorplans, the 199RB is the smallest at just under 21 feet long. While small, the 199RB manages to comfortably house everything needed for an extended camping vacation.
Like the Scamp fifth wheel, the Allen Camper 199RB has a lofted queen-sized bed in the nose and a dinette that converts into a bed. This floorplan also includes a full three-piece bathroom with a storage closet in the rear of the RV.
The camper also has a full kitchen with a refrigerator, an oven, a three-burner stove and a microwave. Allen Camper 5th wheels are available with either aluminum or fiberglass siding to fit every camping need and budget.
Escape 5.0
Length: 21 feet, 2 inches
The Escape 5.0 is the last of the truly tiny campers on our list of small 5th wheel trailers. At just over 21 feet long, this 5th wheel is easy to maneuver but has plenty of space. Like the other really small campers on our list, the Escape 5.0 features a lofted queen-sized bed in the front of the RV and a dinette that turns into a bed.
The steps to the bed open to provide extra storage space, and there is a wardrobe closet at the foot of the bed with room for hanging and folded clothes.
The bathroom in the Escape is a wet bath with a toilet, shower and a sink. Campers who boondock frequently can upgrade the bathroom to include a composting toilet. Kitchen options include a 6 cubic foot refrigerator and freezer, a microwave oven and a range with cooktop and oven.
One of our favorite features of the Escape is the interior design. The contemporary décor option includes white cabinets and walls, which make the space feel bigger.
Click here to see more RVs with modern interiors.
Best Small 5th Wheel Trailers between 24 and 27 Feet
KZ Sportsmen 231RK
Length: 24 feet, 10 inches
At just under 25 feet, the KZ Sportsmen is still small, but includes a little more room to stretch out. This unique floorplan includes an open bath with the shower and sink in the bedroom.
There is a separate water closet for the toilet. In the living room, there is additional sleeping space on the tri-fold sofa and the convertible dinette. The rear kitchen includes all of the standard appliances and plenty of cabinet storage.
Other notable features of the Sportsmen fifth wheels include puncture resistant Tufflex roofing and Solid Steps for easy entry and exit. Campers can also choose to purchase an Off the Grid solar package to make boondocking easier.
Click here to see more of the best 5th wheels with rear kitchens.
Keystone Sport 2100RK
Length: 26 feet, 3 inches
The Cougar Sport 2100RK is one of two 2024 Keystone 5th wheels under 27 feet. This Cougar floorplan has a rear kitchen and a front bedroom.
The bedroom includes nightstands with storage cabinets on either side of the bed and a wardrobe built into the front wall. The living area offers both a dinette booth and a tri-fold sleeper sofa.
Other notable features in the Cougar Sport include tall slides with added head room, durable HyperDeck flooring and a SolarFlex energy system. The 2024 Cougars also come with the Driftwood décor package, which includes white kitchen cabinets, walls and trim and black appliances.
Keystone Arcadia Select 21SRK
Length: 26 feet, 4 inches
Just one inch longer than the Cougar Sport, the Arcadia Select 21SRK has almost exactly the same floorplan. The bedroom, bathroom, rear kitchen and living areas have the same layout in both RVs.
The main difference is the décor package. While, the Arcadia Select fifth wheel also has white cabinets in the kitchen it has wood trim and accent walls. Its floors are also a lighter color wood than the Cougar.
Grand Design Reflection 100 Series 22RK
Length: 26 feet, 11 inches
Grand Design's Reflection 100 Series is a line of fifth wheels designed to be easily towed by a half-ton truck. The 22RK is the smallest floorplan at just under 27 feet.
The layout includes a rear kitchen, a living area with a dinette and theater seats, a front queen bedroom and a full three-piece bath off the bedroom. The bedroom has a wardrobe closet for clothing storage.
With Grand Design's Arctic 4-Seasons camping package, the Reflection 22RK can be used year-round. Other unique features includes a tire pressure monitoring system, a standard solar package with an 180W solar panel and a MORyde suspension system.
Outdoors RV Glacier Peak F26RKS
Length: 27 feet, 0 inches
Last and largest on our list of small 5th wheel trailers is the Glacier Peak F26RKS by Outdoors RV. The rear kitchen floorplan includes a large living room area with recliners, dinette, fireplace and entertainment center.
Families who would like extra sleeping space can swap out the recliners for a sleeper sofa. This fifth wheel also has a separate three-piece bath with plenty of storage space.
The Glacier Peak was also designed for four-season camping with thermal pane windows, thick insulation, a fully-enclosed heated underbelly and a furnace system designed for extreme camping.
The optional Titanium package also includes stainless steel kitchen appliances, an upgraded kitchen faucet and countertop, a wireless rear observation camera and a memory foam mattress.
---
Thanks for reading our comprehensive guide to small 5th wheel trailers. If this list left you wanting more space, check out some larger fifth wheel floorplans with front kitchens or front living rooms.
If you love these tiny living options, check out our RV closet storage ideas and shoe storage solutions for ideas to organize your small space.
Also, once your have found the perfect fifth wheel RV, check out our guide to the best fifth wheel hitches to optimize your towing experience.
Which of these tiny fifth wheel RVs is your favorite? Share your pick in the comments section below.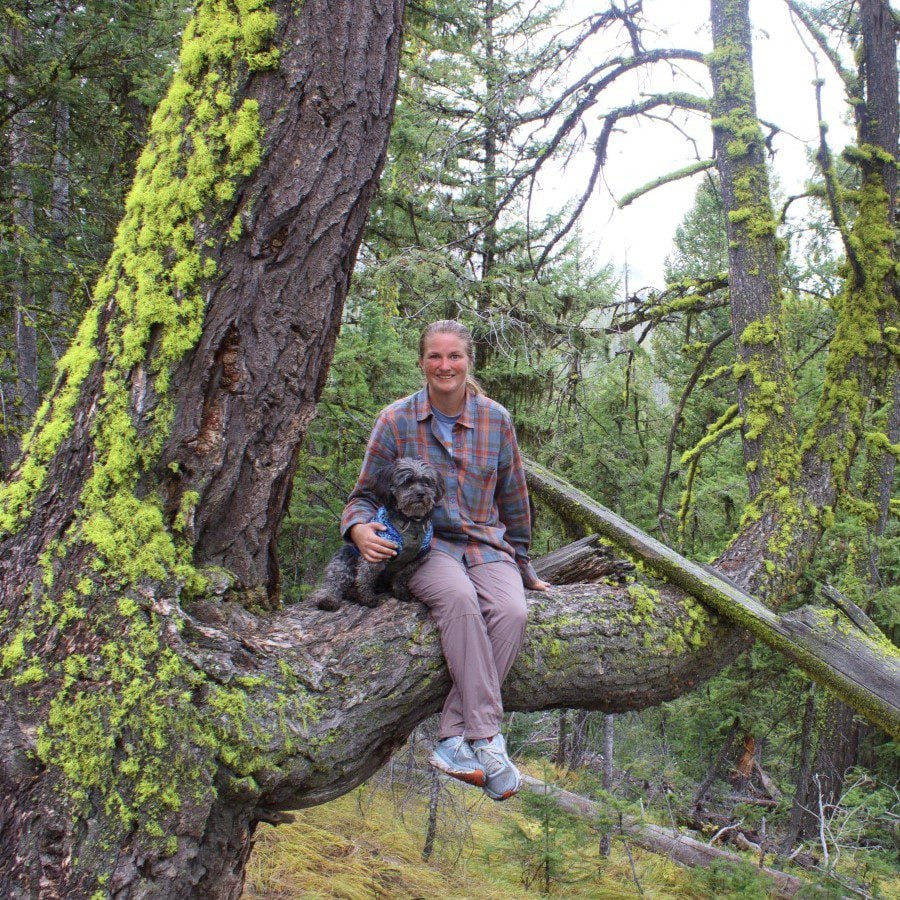 Christina Pate is a seasoned full-time RVer who, along with her husband Justin, has journeyed across the US, Canada, and Mexico. Drawing from her extensive travels, RV repairs and RV renovations, she founded Travels with Ted to guide and inspire fellow RV enthusiasts. Christina is also the co-author of The Owner's Guide to RV Maintenance and the creator of My RV Log Book.