This post may contain affiliate links. See our affiliate disclaimer here.
Can you lease an RV or motorhome? The short answer is no. However, there are several great alternatives to leasing an RV. Keep reading to learn why RV leases are not an option. We also share the best alternatives to RV and camper leases.
Can you Lease an RV?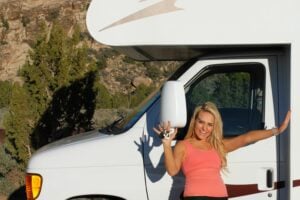 Wondering if you can lease an RV? Unfortunately the answer is no. RV dealerships do not offer leases. However, long-term rentals and financing an RV purchase are good alternatives to leasing an RV.
Why Can't You Lease an RV?
Now, you know you can't lease an RV, but you might still be wondering why that is. RVs depreciate rapidly. RV dealers are not interested in leasing new RVs because they would be significantly less valuable at the end of the lease period.
Off-the-lot depreciation is a reality for most automobiles, but new RVs are typically more expensive than new cars. In fact, new Class A diesel motorhomes start around $300,000. Quick depreciation combined with the high value of new RVs make leasing a less appealing option for RV dealers.
RV Lease Alternatives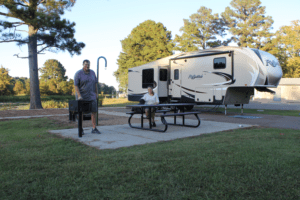 Long-Term RV Rentals
The closest thing to a lease in the RV industry is a long-term rental. One of the biggest benefits of an automobile lease is not being responsible for maintenance and repair costs.
RV rentals generally include roadside assistance for emergencies. Also, renters are not responsible for repair costs and mechanical issues (as long as the issues are not the fault of the renter).
Of course, renters should always read the details of the rental agreement to understand what costs are the renter's responsibility.
The main downside of long-term RV rentals is the cost. The average cost of an RV rental is over $1000 a week. Small travel trailers rent for an average of $860, while Class A motorhome rentals average $2400 per week.
At these rates, a one-month RV rental could easily cost you $5000 or more! However, some companies offer discounts for long-term or monthly rentals. Below is a comprehensive list of companies offering long-term RV rentals
Cruise America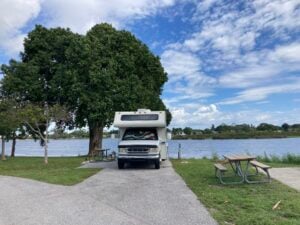 If you have stayed at an RV park, you have likely seen a Cruise America RV. This prolific rental company offers Class C motorhome and travel trailer rentals in the United States.
Using the booking tool on Cruise America's website, we found that most of the company's rental locations cap rentals at around 3 months.
While longer-term rentals have a slightly lower price than short-term rentals, renters should still expect to pay $80 a night or more for a monthly rental.
However, the company's rental agreement does provide coverage for damage and repairs. Specifically, Cruise America rentals include:
Supplemental liability insurance up to $1,000,000 for USA rentals
Responsibility of up to only $2,000 for vehicle loss or damage per occurrence provided you abide by the Terms and Conditions of the Rental Agreement
Expense reimbursement plan up to $3,000 in the event of mechanical breakdown requiring service times
Peer-to-Peer RV Rentals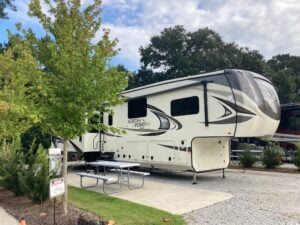 The other option for long-term RV rentals is peer-to-peer renting. These companies allow RV owners to offer their personal RVs for rent. Popular peer-to-peer RV rental platforms are RVezy, RVshare and Outdoorsy.
Since rentals on peer-to-peer platforms are owned by individuals, the availability of RVs will vary greatly. Some RVs will be available for yearly rentals, while others may only be available for weekly rentals.
RVezy is one of the best platforms for finding long-term RV rentals. All of the company's rentals include roadside assistance and rental insurance. The standard insurance plan includes liability, collisions comprehensive and accident coverage.
Many RV owners who list their RVs on RVezy offer a 20% discount on monthly rentals. If the rental is for stationary RV living, many owners will also deliver the RV directly to your desired RV park or campsite.
See our comparison of Outdoorsy vs. RVezy for more details on these peer-to-peer RV rental platforms.
Financing an RV Purchase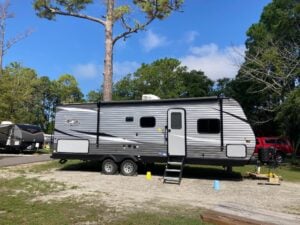 Given the high price of RV rentals, financing an RV purchase may be a better RV lease alternative. While RV dealerships do not offer RV leases, most of them do offer financing on RVs.
The monthly payments for new travel trailers or used motorhomes are generally much less than the monthly rental cost. For example, the monthly payment on a 10-year $75,000 RV loan with a 7% interest rate would be around $870, which is the equivalent of one month of rental fees for a small travel trailer.
If you qualify for a loan with a reasonable interest rate and plan to use the RV for an extended period of time, financing an RV purchase likely makes more financial sense than a long-term rental.
Although your RV will depreciate, it will still have some value when it is time to sell. If you aren't using the RV full-time, you can also rent it out on RVezy to help with the monthly payments.
The main downside of purchasing an RV is that you are responsible for all maintenance, repair and storage costs. Most new RVs come with warranties to help offset repair cost. The best way to save money is to learn how handle RV maintenance yourself.
---
Can you lease an RV? Now you know, the answer is no. We hope you found a great alternative to an RV lease.
If you are still shopping for RVs, see our guide to how to value a used RV for tips on negotiating a great deal!
Once you find the perfect RV or RV rental, check out our 10 favorite USA RV road trips for travel inspiration.
Happy Camping!