This post may contain affiliate links. See our affiliate disclaimer here.
Renovations are necessary if you want to take your RV from 90s brown to modern home. However, RV remodels are time consuming, difficult and expensive.
Fortunately, there are plenty of simple projects that can elevate your RV's style without requiring a full gut job, and wallpaper is one of those solutions. Below are 9 RV wallpaper ideas that will add pizzazz to your travel trailer or motorhome.
If you are in the planning stages of your RV renovation, budget should be your number one concern. Read our complete guide to the cost of RV renovations before finalizing your remodel plans.
RV Wallpaper Placement Ideas
So, you know you want to add a pop of color or texture using wallpaper, but you don't know where it should go. Here are five great ideas for places to hang wallpaper in an RV.
Create an Accent Wall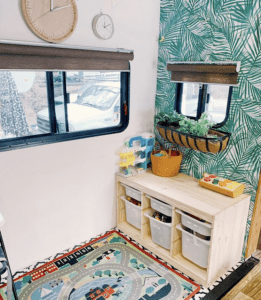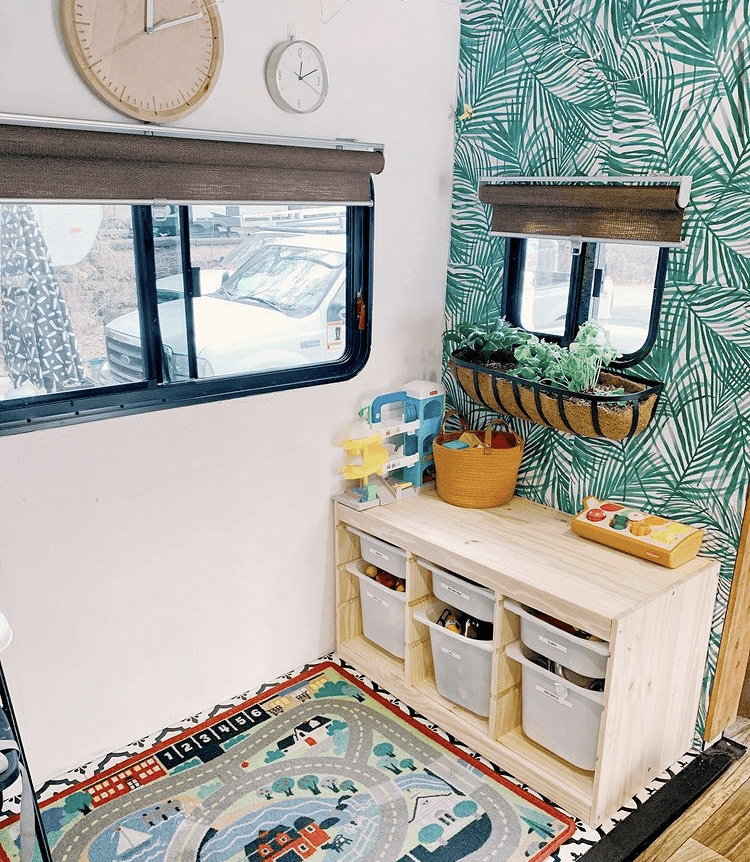 The simplest wallpaper project is to execute is a rectangular accent wall. For the easiest installation, select a straight wall without any windows, outlets or other items that would have to be cut out.
Sarah of @caffeinated.rv.mom created the perfect accent wall in her RV's slide using a leafy green wallpaper. This fun wallpaper helped transform her slide out area into a fun playroom for her kids.
Wallpaper as a Headboard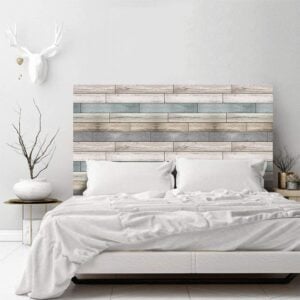 If your RV doesn't come equipped with a headboard (or you don't like the one it comes with) using wallpaper as a faux headboard is a great design idea.
Just place a rectangular section of wallpaper behind the bed or cover the entire wall. The wood grain pattern sticker shown above is the perfect way to add additional warmth and texture to your RV bedroom.
Click here to see more easy DIY RV bedroom remodel ideas.
Cover the Walls of your Tiny Bathroom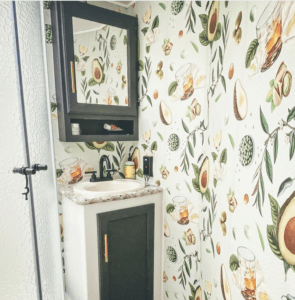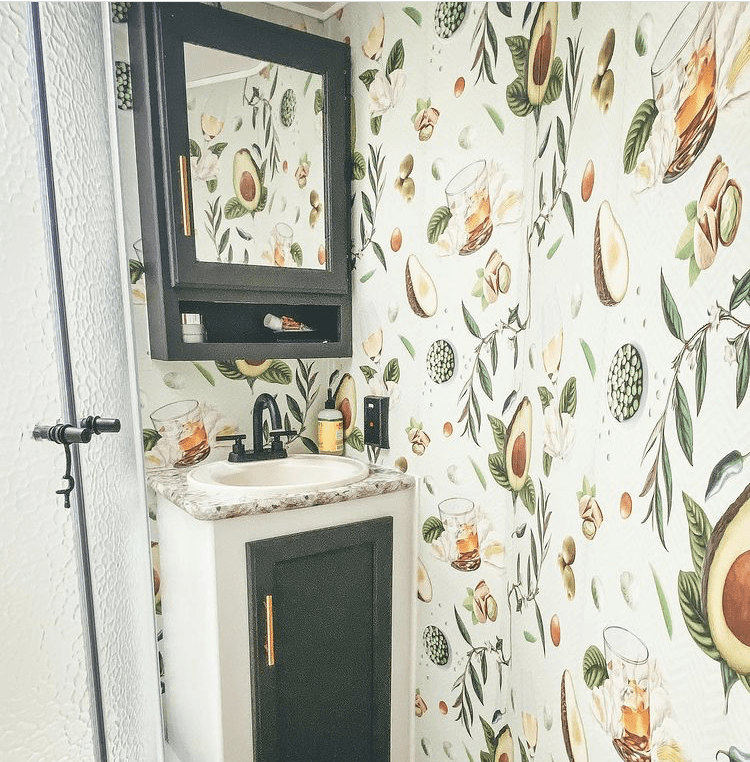 RV bathrooms are tiny, but that doesn't mean they can't be fabulous. Wallpapering one or all of the walls in your bathroom will have a huge impact.
To make installation easier, remove the toilet before hanging wallpaper. The couple behind Life Nomading spruced up their bathroom with adorable Dinner and Drinks print wallpaper from Walls Need Love.
Rental Opportunity Alert: If you love Life Nomading's adorable bathroom, you can rent their entire RV on RVshare!
Add a Kitchen Backsplash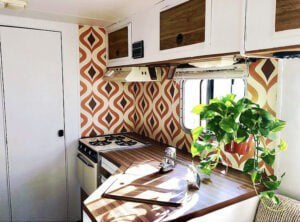 Even in an RV, the kitchen is the heart of the home. Using wallpaper as a backsplash is great way to make an RV kitchen feel warmer and cozier.
Rachel of @_chilaquiles used a funky, pastable wallpaper to create a unique kitchen. If you need a water-resistant solution, try SnazzyDecal vinyl tiles instead.
Make a Bunkroom more Whimsical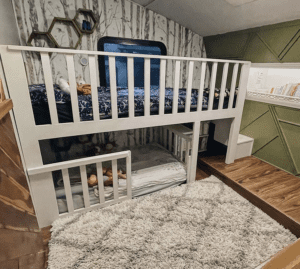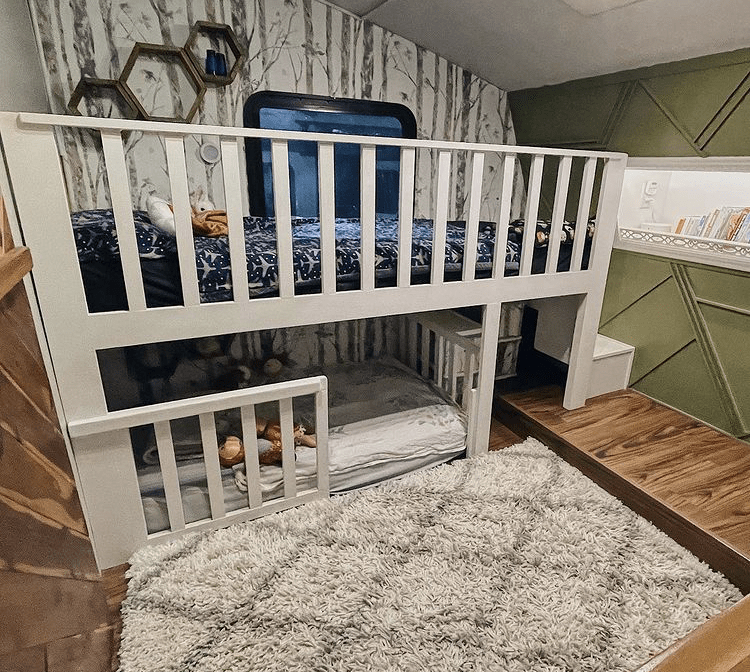 While RVing is fun for kids, bunkrooms are typically just as boring as the rest of the RV interior. A fun wallpaper is an easy way to add a little childhood whimsy to any space.
@rvsandtrees used wallpaper to turn their children's bunkroom into a forest, but the options are as endless as your child's imagination. A bunkroom can be turned into anything from outer space to an under the sea playhouse.
Fun RV Wallpaper Projects
Wallpaper is not just for walls. Below are four projects that utilize wallpaper to upgrade other interior elements of your RV.
Wallpaper your Refrigerator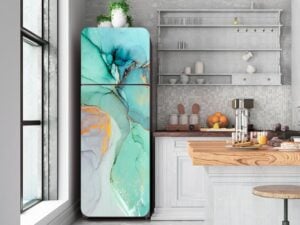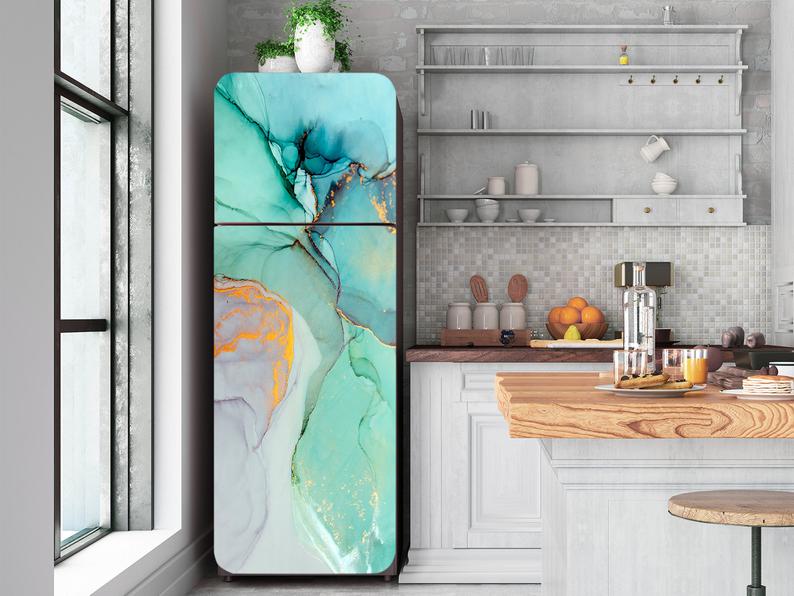 Believe or not it is possible to wallpaper your refrigerator! Covering a fridge is one of my personal favorite RV wallpaper ideas.
Replacing the standard black RV fridge with a bright pattern can truly transform a tiny space. The VinylOutfit store on Etsy sells peel and stick fridge covers in a variety of fun colors and patterns.
Transform Ugly Doors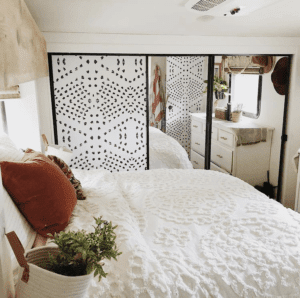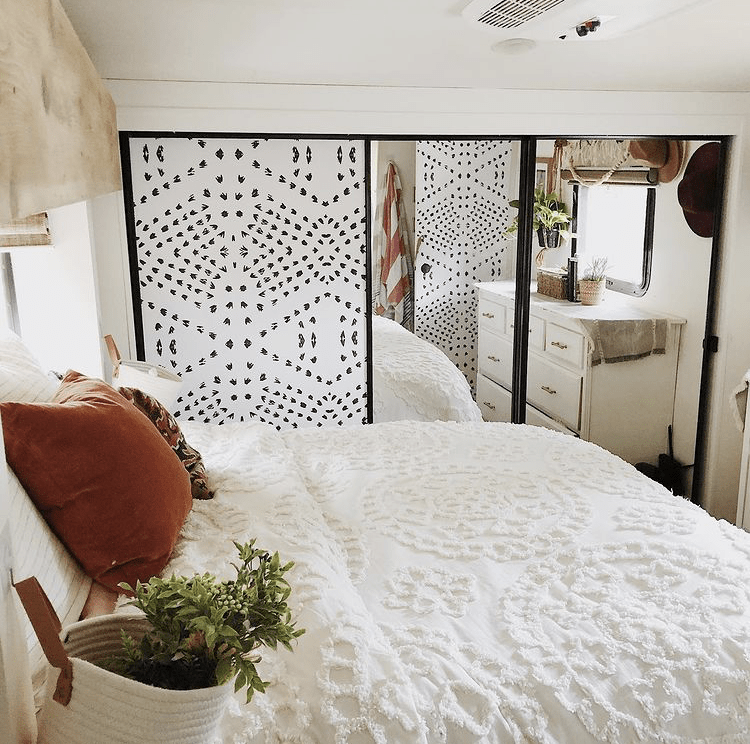 Most RVs come with brown, wood doors and mirrors on the closet. Wallpapering over interior RV doors is a great idea to add a fun design element to a bedroom or hallway.
Shannon of @this.sacred.space spruced up her fifth wheel bedroom by covering the closet and entrance doors with black and white peel and stick wall paper by Holli Zollinger. Once you are finished covering the doors, add new crystal door knobs to complete the look.
Add Color to Cabinets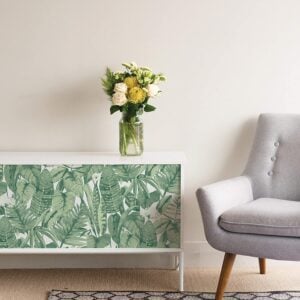 For cabinets that come with glass inserts, wallpaper can be a great way to give them a fresh look. To update bathroom or kitchen cabinets, remove the glass insert and cover a thin piece of wood with wallpaper to create a new insert.
For cabinets without glass, cover the entire surface or the raised interior rectangle. The above photo shows an upgraded cabinet using Tempaper's Jungle Green wallpaper.
Upgrade Interior Stairs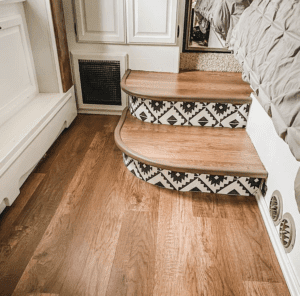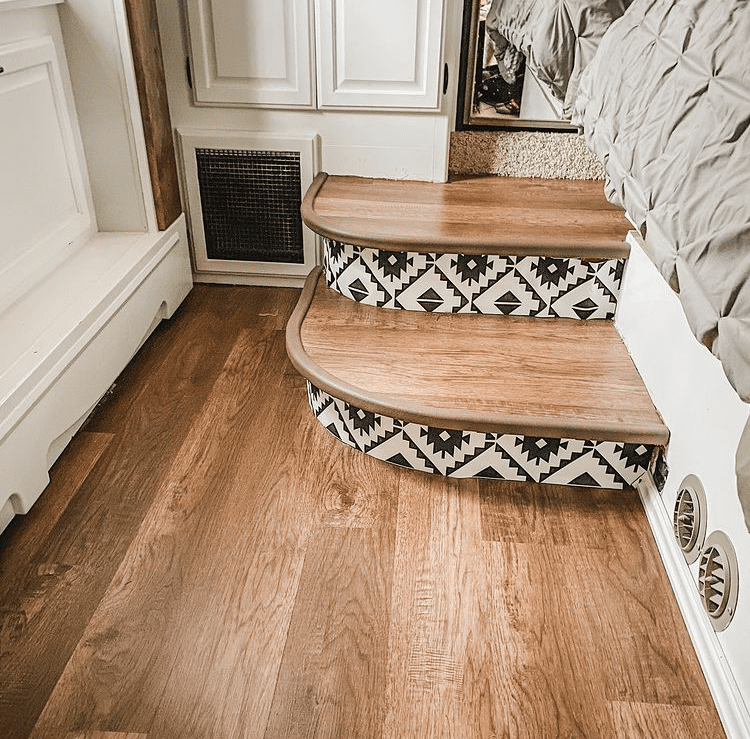 The stair risers in many RVs inexplicably come covered in carpet. Fortunately, upgrading interior stairs is one the easiest RV wallpaper project ideas to execute.
Simply remove the stair riser, pull off the carpet and cover the board with peel and stick wallpaper. Then, nail or glue the riser back into place. For even easier installation, use faux stair riser tiles that come premeasured for stairs.
Tips for Hanging Wallpaper in an RV
Use Peel and Stick Wallpaper
Peel and stick paper is easier to install than traditional wallpapers, and many of these adhesive wallpapers are made to be removable, so its easy to switch up your look in the future.
Check out Tempaper's Amazon store for self-adhesive, removable wallpaper in beautiful designs.
Think Small
A single patterned wall (or even part of wall) will have a big impact in a tiny space. Avoid wallpapering entire rooms, which will make your RV look smaller.
The exception is the bathroom, which can be wallpapered in its entirety since the shower and cabinet will still break up the space.
Choose Walls Carefully
If you are not an expert DIYer, try to choose simple surfaces to wallpaper. Avoid papering walls with curves, windows or multiple outlets. Slim, straight walls like those on the end of a slide are the perfect choice for first time remodelers.
---
Does the idea of wallpapering or renovating your RV excite you or fill you with dread?
If you are feeling the dread, check out these RVs that come straight from the factory with modern finishes. On the hand, if you are excited to start your renovation, browse through all of our interior design articles here.