This post may contain affiliate links. See our affiliate disclaimer here.
How tall is an RV? There are a wide range of RVs on the market, and therefore there are a wide range of RV heights. If you are looking for average exterior heights, skip ahead to our summary of average RV heights.
If you are already an RV owner, it is critical to manually measure your RV to confirm its exact height. Never rely on the manufacturer's stated exterior height as the actual measurement may vary because of appliances and hitches. See below to learn the correct way to measure your RV's height.
Average RV Heights
Below are descriptions of the average heights of each type of common recreational vehicle. The average heights listed below are based on measurements provided by RV manufacturers.
However, it is important to always take your own RV measurements to make sure your driving decisions are based on the actual RV height. For more details on different types of recreational vehicles, see our buyer's guide to RV types.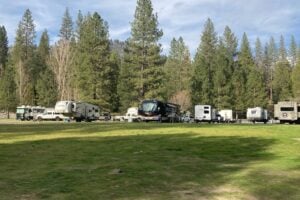 How Tall is the average Class A RV?
Most Class A RVs (or motorhomes) are between 12 feet and 13 feet 6 inches. For example, all of the current Winnebago Class A motorhome models are between 12 feet and 13 feet 3 inches.
Almost all Class A RVs will be less than 13 feet 6 inches, so they can safely pass under most bridges which the federal government recommends be at least 14 feet high.
How Tall is the average Class C RV?
Class C RVs are typically have an exterior height between 10 and 12 feet. For example all of the current Winnebago Class C models are between 10 feet 6 inches and 11 feet 7 inches tall. Class C motorhomes are generally shorter than Class A models.
How Tall is the average Class B RV?
Class B RVs (or camper vans) are the shortest type of motorhome. A typical Class B motorhome is between 8 feet and 10 feet tall.
For example, all of the current Winnebago Class B models are between 9 and 10 feet tall. Class B motorhomes are a great option for travelers who plan to travel back roads with potential low clearance obstacles.
How Tall is the average Fifth Wheel RV?
Modern fifth wheel RVs are generally between 12 feet and 13 feet 6 inches tall. For example, looking at all of the current year Keystone Fifth Wheels, their shortest fifth wheel is 12 feet tall while the tallest is 13 feet 6 inches.
Almost all fifth wheels will be 13 feet 6 inches or shorter, so they can safely pass under most bridges. Fifth wheels may be taller at the front section or nose, so the average heights listed are for the highest point of the RV.
How Tall is the average Travel Trailer?
Travel trailers are generally a bit shorter than fifth wheel RVs. The average travel trailer measures between 10 and 12 and a half feet tall.
For example, all of Keystone's travel trailers on the market are between 10 feet 2 inches and 12 feet 4 inches tall.
How Tall is the average Toy Hauler RV?
Toy Hauler RVs feature a rear garage with a large door that also functions as a ramp. Because toy haulers are available in both fifth wheel and travel trailer styles, they come in a variety of heights from 10 feet all the way up to 13 feet 6 inches.
For example, all of the Keystone toy haulers currently on the market are between 10 feet 2 inches and 13 feet 6 inches tall.
How Tall is the average Pop-Up Camper?
Pop-up or fold-out campers have a solid base, with soft sides that expand to create additional space. Since pop-up campers are folded down while traveling, they are shorter during driving mode then when they are expanded for use.
Most pop-up campers are between four and five feet tall when closed. However, high wall models, such as the Forest River Rockwood Tent, are typically 6 to 7 feet high.
How to Measure Exterior RV Height
Why is it important to measure RV height?
All RV manufacturers provide their RV's heights on their websites and in owner's manuals. However, the published exterior height may not be an accurate representation of the RV's clearance height while traveling.
First of all, some companies do not include the air conditioner or other rooftop appliances in the published measurements. In addition to the AC unit, solar panels, satellite dishes and roof racks many increase the RV's height. For fifth wheels and travel trailers, the RV may be slightly taller when hitched to the tow vehicle.
How to Measure RV Height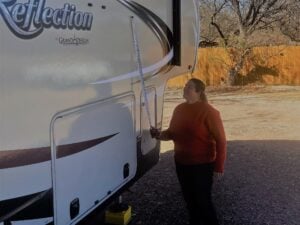 Put RV in Travel Mode: For travel trailers and fifth wheels, hitch the RV to the tow vehicle exactly as you would on a travel day. For motorhomes, retract any jacks. All RVs should be on level ground for accurate measurements.
Get on the Roof: Have someone who is comfortable accessing and walking on the RV roof, climb on top of the RV. There should be another person on the ground to assist with the measurement.
Measure Height: Extend a tape measure or measuring tape between the person on the roof to the person on the ground. The RV height should be measured from the ground to the top of the highest point on the roof. Keep in mind, the highest point on the roof is usually the air conditioner and not the roof itself.
Remeasure Height: Repeat the process of measuring the RV height from the other side of the RV. It is important to take the measurement twice to account for any differences created by unlevel ground.
RV Travel and Height Considerations
Legal Maximum RV Height
The maximum allowable vehicle height varies by state. Most states have a maximum allowable height between 13 feet 6 inches and 14 feet. With a cap at 15 feet, Alaska is the only state with a maximum height above 14 feet.
Since most RV travelers will cross state lines, it is not advisable to purchase an RV over 13 feet 6 inches. The federal government also recommends that bridges on public roads have a clearance of at least 14 feet. Even with the added height of the air conditioner, most RVs under 13 feet 6 inches will be able to clear standard height overpasses.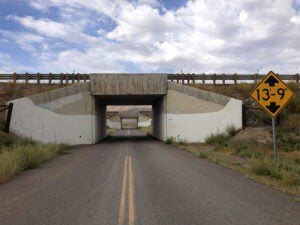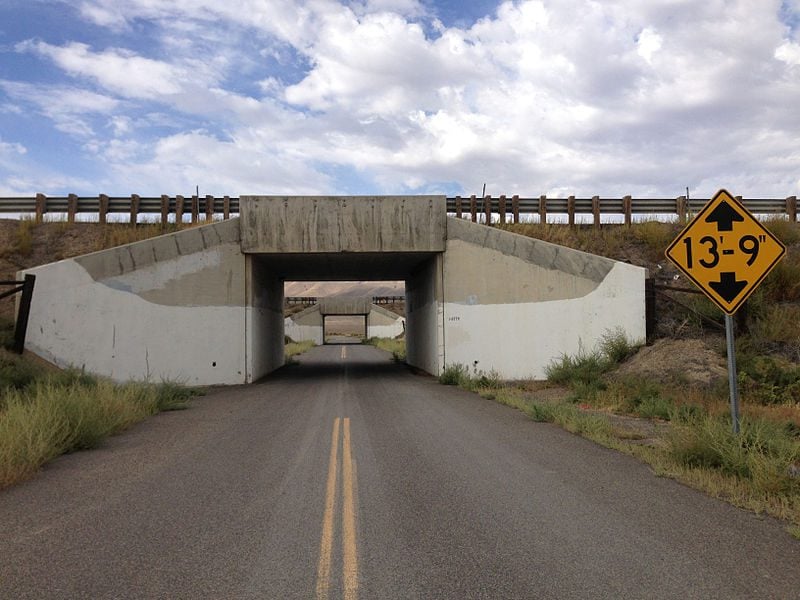 How to Avoid Low Clearance Routes
Although, the recommended minimum bridge height is 14 feet there are several roads in America with lower clearances. There are a few different ways for RV owners to check for and avoid low clearance bridges and overpasses.
Buy an RV GPS: GPS navigation systems designed specifically for RVs and trucks can help drivers navigate around low clearance routes. The RV LIFE Pro GPS accounts for your RV's size and weight when selecting a route and has warnings for low bridges. The RV LIFE Pro GPS is a smartphone app, so you don't have to worry about updating the GPS software.
Use a Road Atlas: For drivers who prefer an old-fashioned approach, a paper road atlas is also a great route planning tool. The Rand McNally Deluxe Motor Carriers' Road Atlas includes truck routes and low clearance locations.
Regardless of what planning tool you use, pay attention to road signs and posted bridge heights. If you are unsure if your RV can safely pass under a bridge, pull over and find a different route. It is always better to be safe than sorry.
Also keep in mind that repaving can reduce the clearance height of bridges and overpasses by a few inches. Only drive under a bridge if your RV is at least a few inches shorter than the posted clearance height.
We once came upon an 11 foot clearance bridge after taking a detour off the interstate in Georgia to avoid traffic. Backing up down the narrow road was not our favorite RV memory, but it was better than taking out our roof and air conditioners.
However, it would have been even easier if we had pulled over and checked our atlas before proceeding with the detour. Lesson learned!
When RV Height Matters
In addition to passing under bridges, there are other situations where RVers should pay attention to their RV height.
Fuel Stations
Most gas stations have covers over the pumps to keep people and equipment dry and shaded. However, not all of these fuel station canopies were built with RVs in mind. Always read the clearance sign before trying to park at a regular gas station.
To be safe, RV travelers can use truck lanes or RV-specific lanes (available at Flying J gas stations) that have higher canopies or no cover at all.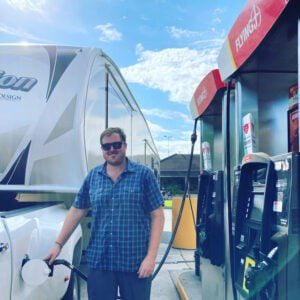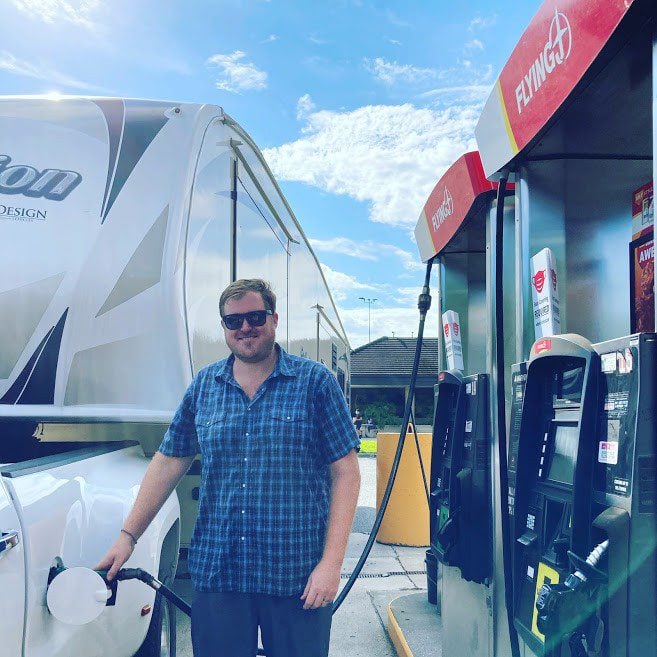 Covered Storage
Storing an RV in an enclosed space is always a good idea. RVs stored inside will be protected from the natural elements, such as weather and rodents. A standard garage door is only 7 feet tall, so most RVs cannot be stored in a residential garage.
Instead, RV owners who want to store their RV in a covered and enclosed space will need to find a specialty storage facility or make use of a pole barn or other oversized garage.
ATMs and Fast Food Restaurants
Many drive-up ATMs and fast food drive-thru lanes also have canopies. While most owners of larger RVs know to avoid these situations, some drivers of Class Cs and other small RVs may try to access these roadside amenities.
Always check the clearance height before using an ATM or drive-thru. To be extra safe, it is better to park and order inside or use a walk-up ATM.
RV Interior Height
Interior ceiling height is another key consideration when purchasing an RV. Tall people may not be able to stand up straight in all RVs. Typically, Class A motorhomes have the highest interior ceiling height.
Most Class As have interior ceilings that are about 7 feet high, so they are tall enough for almost everyone to stand up straight. The rear portions of fifth wheel RVs also have very high ceilings (most are 8 feet), but the ceiling height is much lower in the front end or nose of fifth wheels.
The ceiling height in travel trailers varies greatly between models. If you are looking for a travel travel with sufficient headroom for a tall camper, consider the Dutchman Aspen Trail. The Aspen Trail features 82 inches (6 feet 10 inches) of interior ceiling height.
Other RV Measurements
When evaluating the size of your RV, there is more to measure than just the RV's height. Be sure to measure your RV's length and width as well.
Average RV Length
The length of RVs varies even more than the exterior height. The exterior length of RVs ranges from tiny 12 foot long travel trailers to 45 foot long Class A motorhomes. It is important to know the length of your RV, as many campgrounds (especially in national parks) have length restrictions.
While many private RV parks can accommodate all RVs, national parks and state parks often have campsites only allow RVs 35 feet long or less. Check out our full guide to RV size restrictions for more information.
Length also matters when driving. Many winding mountain roads will have maximum length requirements or recommendations. Always check maximum length recommendations when driving in the mountains or visiting national parks.
Average RV Width
There is less variation in average width as all RVs need to be able to travel within a standard single lane. In the United States, the Interstate Highway standards for the Interstate Highway System use a 12 foot standard lane width.
However, lanes on lower classification roads may be narrower. Most RVs are between 8 and 10 feet wide, so they can easily travel on interstates and most other roads. However, all RV owners should know the actual width of their RV, so they can confidently know when the road is too narrow. Interior RV width is expanded in many RVs with the use of slide outs that are closed while driving.
---
When it comes to RV dimensions, always measure twice and plan ahead. Plan your route based on your RV clearance height, and never proceed if you are unsure if there is enough clearance. Turning around may not be fun, but it is better than risking your safety and your RV's roof!
If you are new to RVing, check out our RV travel tips for beginners and our complete list of must have RV accessories. These guides will help you avoid typical rookie mistakes.
For more seasoned RVers, what is the worst obstacle you have encountered while driving? Have you run into low bridge clearances or other difficult routes? Share your story with us in the comments section below.