This post may contain affiliate links. See our affiliate disclaimer here.
There are several decisions to make when deciding which RV is right for your family. In my opinion, size is second in importance only to budget when purchasing an RV. Size will determine where you can park and how easy it is to drive your rig.
So, what is the best RV size to buy? Unfortunately, there is no perfect RV size, but we are answering all of your questions and sharing our best tips to help you determine the right length for your family.
For more help deciding which RV is right for your family, read our article on the best RVs for full timers. In this article, eight veteran full time RV families share why they picked their RV and what they wish they could change.
Once you find the perfect RV, you will also need to buy lots of gear to keep you safe and happy on the road. Check out our Amazon shopping list for all the gear you need to successfully hit the road.
FAQs about the Best RV Size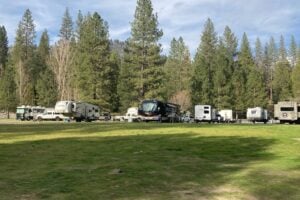 What is the best size RV for national parks?
Many RV bloggers state that RVs 35 feet and under are the best size for national parks. However, many national park campgrounds cannot accommodate 35 foot campers and those that do have limited spaces for big rigs.
If you plan to camp frequently at national parks, it is best to buy an RV under 30 feet to optimize your camping options. See our complete guide to camping in national parks for details about each park's campgrounds.
What size RV is best for camping at state parks?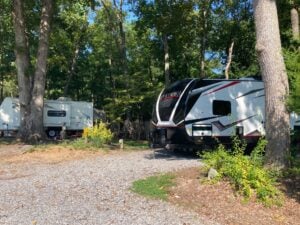 Although RV size limits vary at state parks across the country, many of these state campgrounds can accommodate larger RVs. Selecting an RV that is less than 35 feet long will allow you to camp at many state parks across the country.
What size RV is best for boondocking on BLM lands?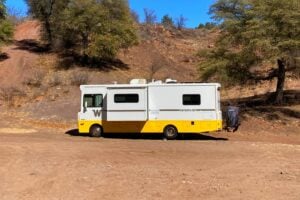 There is no set size limit for dispersed camping or boondocking on BLM lands. However, the smaller your RV, the more places you will be able to access. Larger RVs may have difficulty navigating dirt roads and finding a large enough place to park.
What is the best size RV for traveling to Alaska?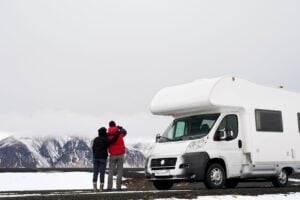 RVs of all size can travel to Alaska through western Canada. However, small RVs, such as vans and truck campers, will be able to utilize more of the free roadside parking in Alaska. Larger RVs will need to make reservations at RV parks to ensure they have a place to camp.
What is the best size RV for camping in Baja, Mexico?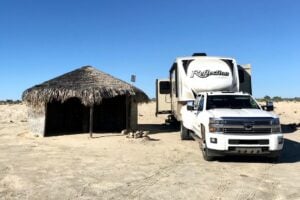 All RV sizes can travel and camp in Baja. We traveled the peninsula in a 34 foot fifth wheel without any issues. However, smaller RVs and truck campers will have more opportunities to camp on the beach. See our complete guide to RVing in Baja for more details.
What is the smallest RV?
The Hitch Hotel is an expandable travel trailer that is shorter than 39 inches when in the compact towing position. The trailer expands into a full size sleeping space, but does not have a bathroom or kitchen.
What is the smallest RV with a bathroom?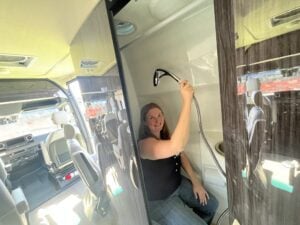 The smallest RV trailer with a bathroom is 14 feet. iCamp Elite, made by United Recreational Vehicles, is a tiny travel trailer. The camper is just 14 feet long and 2366 pounds, but comes equipped with a full wet bath, including a sink and cabinet. See a full list of small RVs with bathrooms here.
What is the best size camper for a family of 4?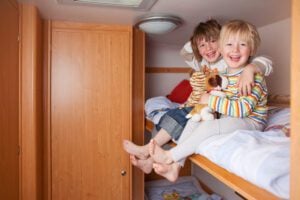 There is no perfect length that fits every family, but a bunkhouse layout is definitely the best options for families with kids. There are several Class C RVs on the market that are around 32 feet long and come with bunk beds.
What is the best size travel trailer for a couple?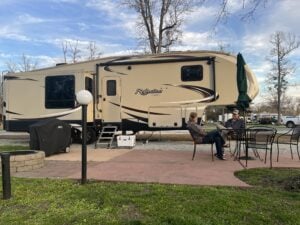 Again, there is no perfect size RV based on family size. However, somewhere between 26 and 30 feet is an ideal size travel trailer for couples without children. These trailers are small enough for national parks, but also have enough space inside for work and play.
What is the best size RV for full time RV living?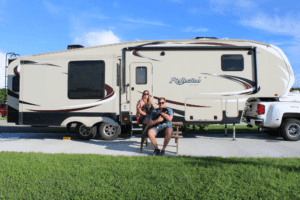 There is no perfect size for full time RV living, but factors to consider include where you want to camp and what features you need. If you need a bunk room, a 40 foot fifth wheel may be right for your family. For true minimalists, a 20 foot travel trailer may provide plenty of space to live.
How tall are RVs?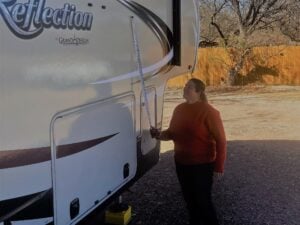 Most of our article focuses on RV length, but knowing the height is also important. The tallest types of RVs are Class A motorhomes and fifth wheels. These RVs are typically between 12 and 14 feet tall.
Always measure your RV's height (including rooftop appliances) before traveling. Check a road atlas to ensure there are no low clearance bridges on your drive.
Are there legal limits on RV size?
Yes, some states do set limits on the length, width and height of recreational vehicles. If you plan on purchasing a big rig, verify your state's regulations and the regulations of states you plan to travel to frequently. Many states also ban triple towing (i.e. towing a boat behind a fifth wheel).
How wide is a camper with slide outs?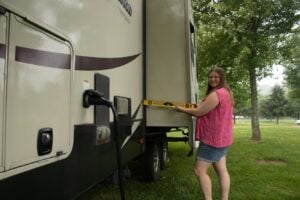 Slide outs typically extend an RV's living space by 2 to 3 feet. Most Class A RVs and travel trailers are between 8 and 8.5 feet wide. Therefore RVs with slide outs on one side are 10 to 11.5 feet with the slides extended, while RVs with slides on both sides are 12 to 14.5 feet when extended.
How to Choose the Best Size RV for You
When it comes to RVs, size is relative. Some campers think 40 foot fifth wheels are extravagant, while others could not imagine living or traveling in anything smaller. Below are seven factors to consider when choosing the best RV size for your family.
Driving Confidence
One of the most important factors to consider when selecting an RV size is your confidence driving or towing. While anyone can learn to drive a large RV or tow a large fifth wheel, smaller vehicles are easier to drive and maneuver. Class B and small Class C motorhome RVs will be the most similar to driving a car.
Budget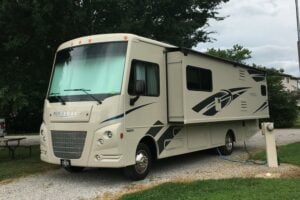 Another key consideration is budget. Just because you want a big rig Class A, doesn't mean you can afford it. Always set your budget before deciding on your ideal size. Be sure to read our guide to valuing used RVs to ensure you do not overpay.
Frequency of Use
Weekend camping trips and living in an RV are two different experiences. For example, a small refrigerator and a microwave are sufficient for camping trips, but full timers will want a fully equipped kitchen.
Weekenders can also pile into an RV, while families living on the road may want separate rooms for added privacy.
Where You'll Stay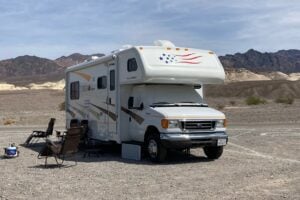 If you plan to boondock frequently on public lands, considering a smaller RV is wise. A smaller RV, especially those under 25 feet, will also have more campsite options at state and national parks. On the other hand, campers who are always going to stay at private RV parks do not have to worry as much about size.
Beds
The number of sleeping spaces and beds is another important consideration when selecting the best RV size. You obviously need a sleeping space for every person in your family, but also consider if you (or your kids) will have guests. Many RVs have sleeper sofas, convertible dinettes and over the cab bunks to add additional sleeping in a smaller space.
Pets' Needs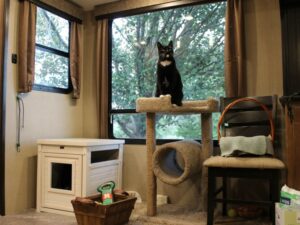 When counting how many bodies will be sleeping in your RV, don't forget about the pets. Mae sure any RV you purchase has sufficient room for your cats and dogs and any supplies they need.
For cats, you will need an out-of-the-way place for the litter box and dogs will likely need a bed or crate. Check out our complete guides to RV travel with cats and dogs for more information on camping with pets.
Tow Vehicle or Toad
When thinking about what size to purchase, it is also important to think about your tow vehicle or toad. You will need a truck to tow all fifth wheels and travel trailers, and you will need a heavy duty truck for larger trailers.
If you are purchasing a drivable RV, consider whether or not you plan to tow a car behind the rig and if so take that into account when setting your total length.
---
In summary, be realistic about your needs but also recognize the benefits of smaller RV. Smaller RVs have more camping options, are easier to drive and are more affordable. So, the best size RV is the smallest RV you are comfortable buying.
If you are still unsure what size RV is right for you, rent one (or two) similar to the ones you are considering. After driving and camping for a few days, you will quickly know if the RV is large enough for your needs. Click here to find RVs for rent on RVshare today.
What RV size is ideal for your family? Share your thoughts with us in the comments section below.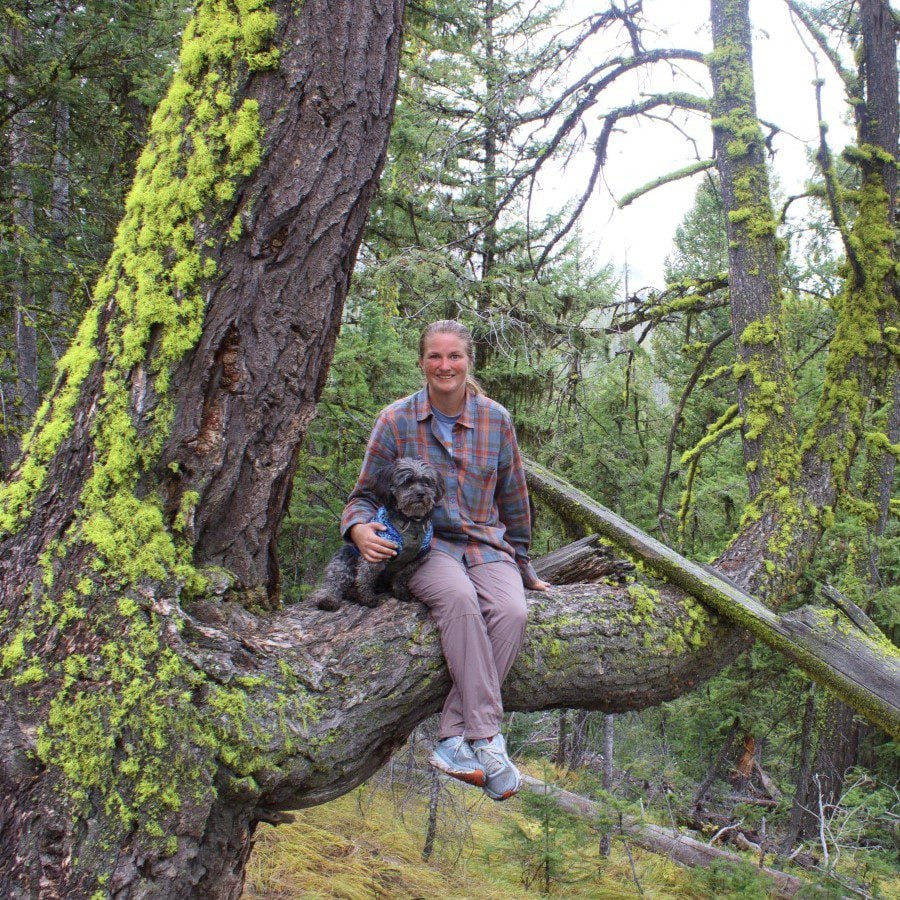 Christina Pate is a seasoned full-time RVer who, along with her husband Justin, has journeyed across the US, Canada, and Mexico. Drawing from her extensive travels, RV repairs and RV renovations, she founded Travels with Ted to guide and inspire fellow RV enthusiasts. Christina is also the co-author of The Owner's Guide to RV Maintenance and the creator of My RV Log Book.