This post may contain affiliate links. See our affiliate disclaimer here.
When you are traveling full-time and working remote or temporary jobs, you are bound to spend significantly more time with your spouse than before you hit the road. While full-time RVing has unlimited benefits, there are definitely challenges to sharing a small space and leaving your community. Of course, to be successful in RV living you both need to be excited about your new lifestyle, but there are also some everyday considerations. Here I share some practical tips we've implemented to better partners in the full-time RV lifestyle.
Schedule your Showers
Hot water is limited in RVs and travel trailers. While there is typically enough hot water for two people to take quick showers back to back, you will easily use all of the hot water during a normal shower. Talk through your schedules and make sure your showers are scheduled at least 30 minutes apart to avoid an ice bath. Keep in mind that hot water will be even more limited when you are camping in mild climates. In addition to hot water, you also need to remember that only one person can use water in the RV at a time. If you try to wash dishes while your spouse is in the shower, they will lose water pressure and get a shot a cold water. It took a year for my husband to learn to stop using the kitchen sink while I am in the shower.
Respect Work Spaces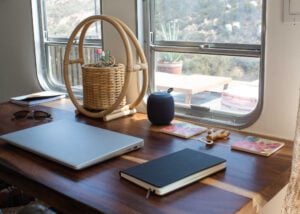 Many of us full-time RVers are also digital nomads who work from a computer. Even if you have an dedicated work space in the RV, you are unlikely to have a whole room dedicated to your mobile office. When you or your spouse are working, you should act as though you are at an office. Be quiet while the other person is working and try to avoid distracting your partner. You'll have more time to enjoy together if you are allowed to work efficiently. Of course, you can also schedule breaks for lunch and walks to take advantage of the additional time you have together. We are still working on this one. As I am writing this blog, my husband has interrupted me several times to talk about football 🙂
Go to Bed at the Same Time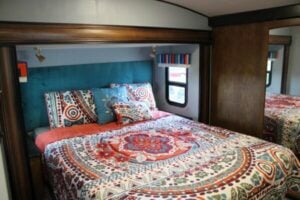 RVs do not have good sound barriers and they can be a bit bouncy.  If your husband is watching TV late at night while you are trying to sleep and you are doing yoga in the morning while he is trying to snooze, fights are sure to ensue.  Getting on the same schedule will allow you both to rest peacefully. Also, check out our RV master bedroom remodel to see how we created a peaceful sleeping space.
Divide and Conquer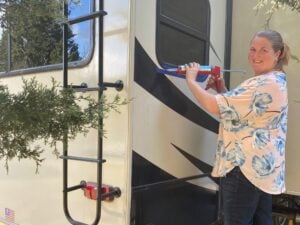 There are good deal of new chores involved with living in an RV.  Dividing these tasks will help you become experts more quickly and avoid fights while you are on the road.  During the set-up and hook-up process, we each have clear responsibilities.  I pick-up the inside, put in the slides and handle the leveling system.  My husband set-ups the water, sewer and drives the truck.  While we are parked, he goes to the laundromat and handles the dumping and cleaning of our gray and black tanks.  I am in charge of some basic maintenance tasks, such as sealing the windows.  Setting clear responsibilities before you hit the road will create a smoother transition into RV living.
Visit Friends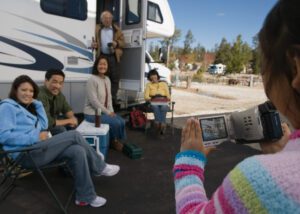 While you definitely need to enjoy spending time with your spouse to be successful at RV life, it is still important to have time away from each other. One of the amazing things about traveling full-time, is that you can easily visit new and old friends across the country. Make sure to schedule stops to near friends and family and allow your spouse to have quality time with their girlfiends or boys.
If you move in with a strong relationship, living in an RV with your spouse will be a blast. Having the opportunity to experience new places and adventures every week, will enhance your lives and make your relationship more exciting. Have any concerns about living in a tiny space with your spouse? Comment below to share.
If you are on the fence about RV living, check out my complete and honest assessment of the RV lifestyle.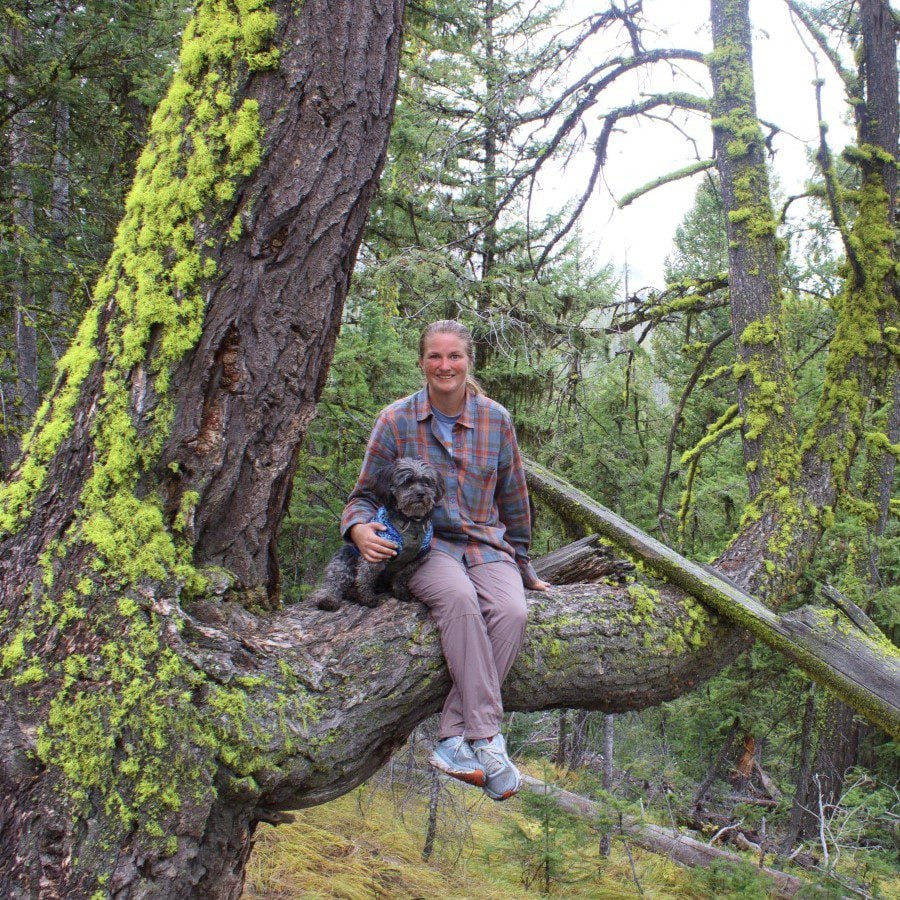 Christina Pate is a seasoned full-time RVer who, along with her husband Justin, has journeyed across the US, Canada, and Mexico. Drawing from her extensive travels, RV repairs and RV renovations, she founded Travels with Ted to guide and inspire fellow RV enthusiasts. Christina is also the co-author of The Owner's Guide to RV Maintenance and the creator of My RV Log Book.